Machinery Services Corp – Local Crane Rental Services & Rigging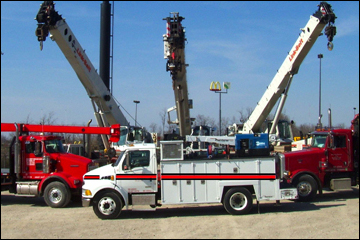 We specialize in Local Crane Rental Services in Lexington KY.  Most of all, our crane fleet includes 20,000 lb knuckle booms as well as 40, 50, 60, and 70 ton hydraulic truck cranes which enables us to cover a wide variety of rigging needs.
Crane Rental
Especially relevant, our operators are certified with many years experience under their belt. Most noteworthy, our riggers are safe and courteous. Customers will see that our rigging equipment and our welding shop are able to fabricate whatever may be needed for your unique lifting job. Finally, we have competitive rates that are simple and easy to understand. No hidden permit costs.
Machinery Services covers from Louisville to Lexington, Lexington through Cincinnati, Cincinnati through Ashland, Ashland to Knoxville for our local crane fleet, and covers all of North America of our rigging, welding, equipment assembly, and trucking operations.
MSC offers project management and lift analysis, free job site visits to ensure the correct crane is identified, safe ground conditions, free from power lines and other variables. We are capable of handling the most unique lifting and and equipment needs.
We are experienced in:
Power Plants
Rock Quarries (MSHA Certification)
Coal Mines
Gold Mines
Chemical Plants
Hospitals
HVAC Placement
Steel Mills
Government
Military
Industrial Buildings
Steel Erection