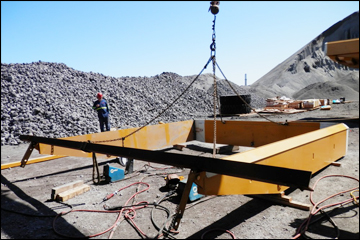 ASSEMBLY, DISASSEMBLY, & TURNKEY RELOCATION
Machinery Services offers heavy machine assembly.
Whether your moving and assembling a 130,000 lb excavator or a 1.3 million pound hydraulic shovel, Machinery Services has you covered.  By providing trucking, crane services, welding, and assembly services, we are your partner for turn-key equipment assembly and excel through project management experience and one company to manage.  With over $200,000 worth of torque wrenches, specialized rigging and tooling, and employees with 30 plus years assembling equipment, we strive to streamline your build, allowing your equipment to get back to work, or for a dealer, speeding up the assembly time allowing you to invoice your customer sooner.  We are a vendor of choice for the major equipment manufacturers, doing assembly in the field and at proving grounds for Caterpillar, Hitachi, Komatsu, and Liebherr.  MSC employees are MSHA certified.  
Contact MSC today to get a firm quotation for your upcoming equipment move or, for dealers, to get budget number to include in the machine price when quoting a customer.